Baylor St. Luke's Cardiac Catheterization Lab Accredited by American College of Cardiology for Outstanding Program
We are pleased to announce that the Baylor St. Luke's Medical Center cardiac catheterization lab has been accredited by the American College of Cardiology for its outstanding cardiac program. By achieving accreditation, Baylor St. Luke's has demonstrated it meets all standards for quality and is committed to pursuing excellence in treating patients that seek acute cardiac care.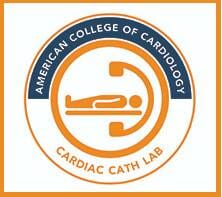 This accreditation is awarded to hospitals that have proven exceptional competency in treating patients who require cardiac catheterization and have standardized their assessment process for patients to ensure quality and patient safety. The accreditation ensures care in the procedure room for sedation, infection control, radiation safety, universal protocol, and time out procedures is fully coordinated. This also signifies Baylor St. Luke's has mastered the appropriate transfer to a catheterization recovery unit to better monitor and track complications and enhance physician-to-patient communication, patient family communication, discharge instructions, and follow-up information.